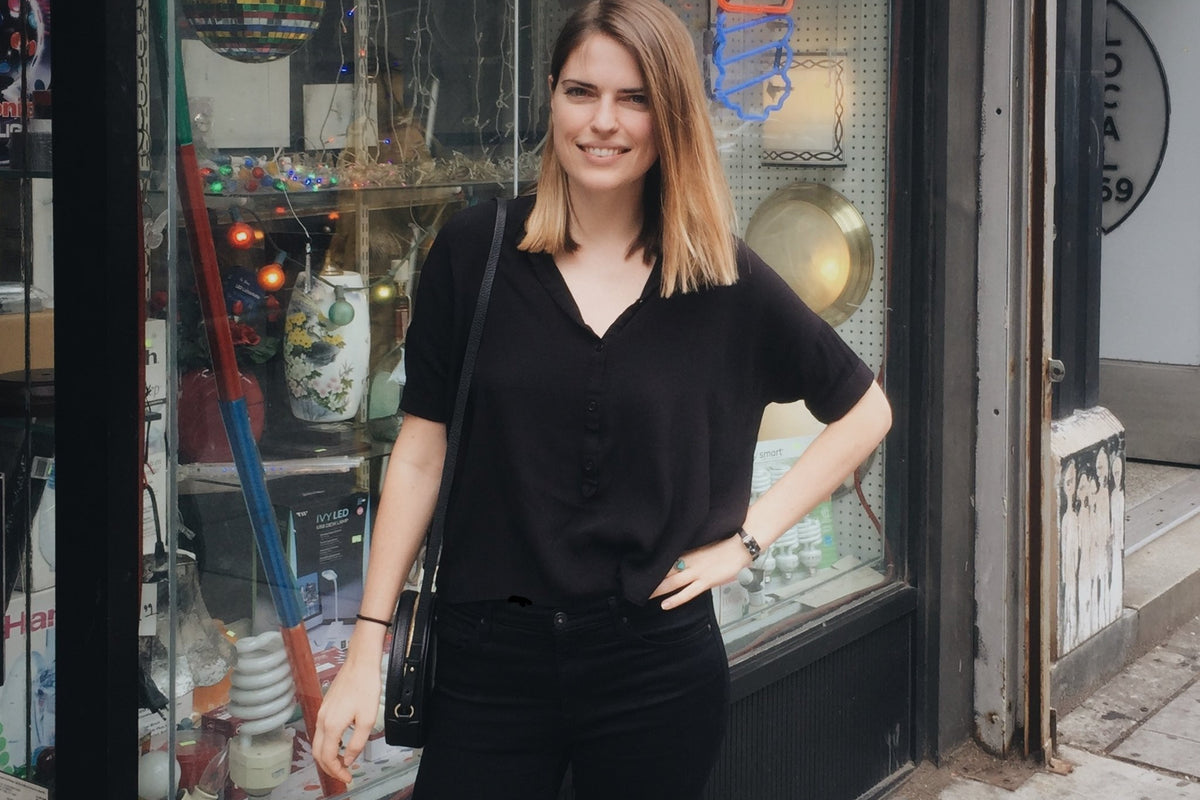 Meet The Brains Behind Ringly GO
Q: What made you want to become an engineer? Tell us a little bit about your background.
A: "I was a late bloomer! I didn't really know what engineers did until my sophomore year at Stanford when I stumbled across a Mechanical Engineering major called Product Design. I took the intro courses, which were based on building tangible things and problem solving in groups. My later courses focused on silversmithing, user research, manufacturing methods, materials science, and robotics— AKA way more engaging than my German literature classes. It was a no brainer! 
Since school, I've worked for a startup in San Francisco, design firms in Stockholm and New York, and on various freelance projects. I also try to keep up with my own jewelry and photography work when there's time."
Q: When did the team first start the design of GO?
A: "August 2016, so about ten months ago. Making physical products takes more time than you'd think!"
Q: What did you find exciting when working on GO?
A: "We knew we wanted to hit a lower price point for GO, so I had the opportunity to work closely with some new factories to explore new manufacturing processes. That involved numerous Skype calls and trips to visit suppliers in China. Our goal was to deliver high quality parts at lower costs so that we could pass on those savings to our customers.
One rare process we used with GO is called Metal Injection Molding (or MIM). It's commonly used in the automotive & aerospace industries to make extremely precise stainless steel parts, but jewelers don't typically use it because of the high minimum order quantities. That's the thing about RINGLY; our product bridges tech and fine jewelry— two industries that don't overlap. We found ourselves in a unique position to bring our learnings and expertise from one world to the other."
Q: Can you talk about developing the charger?
A: "Definitely. The GO charger is a simple USB charging cable that magnetically attaches to the back of the smart bracelet. We wanted to make it something easy to throw in your bag for a weekend away, and in the end, we are psyched about how small it is!
We prototyped lots of ideas before landing on the final design. We cut up old chargers, 3D printed new concepts, and soldered up temporary circuit boards to understand functionality and size constraints. I personally am a firm believer in the Dieter Rams design principle: 'Good design is as little design as possible,' so we made it as simple as possible. A good charger should work well and not call attention to itself."
Q: What inspired the leather strap?
A: "We're excited about the idea of interchangeable bands. Leather was a perfect first step because it's comfortable and classic, plus we love the quality of the Italian leather we chose. I don't want to give too much away, but we're excited to expand the collection!"
Photo Featuring Ringly GO in blush, currently $125
Q: What was the most challenging part of building/manufacturing GO?
A: "On a personal note, this was my first time stepping into a manufacturing operations role, so I learned a ton about vetting new vendors, requesting quotes and samples, managing shipments between vendors, communicating timelines internally and externally, etc. Some of these things I had to learn the hard way. For instance, I had to learn that the RINGLY HQ zip code is not the same as my personal zip code (oops), and the cut off time for air shipments at our local UPS is 7:30pm. Super specific I know, but manufacturing requires a world of street smarts and a healthy dose of humility. I've made plenty of mistakes in the process that I could easily dwell on, but I'm definitely not wasting any time on that. As our VP of Sales, Anna, always says... "We're building an empire!"
I also want to give a big shout out to the rest of the talented RINGLY hardware team who worked on Ringly GO: Ethan Winchell, Matthew Parks, Mimosa Je, Akbar Dhanaliwala, John Pelochino, and Nicky Sinclair."
May 24, 2017